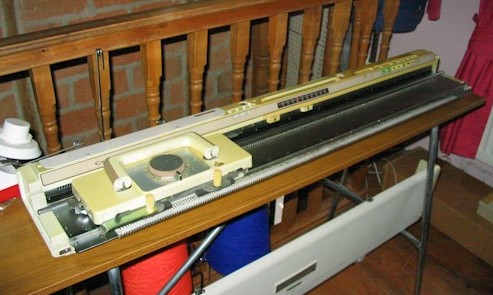 Which Knitting Machine shall I get?
If you do a search on the Internet for Knitting Machines, you will find a vast array of different types and prices that you can buy on the second-hand market. For a beginner, new to machine knitting, this can be very overwhelming and confusing. It It can be difficult to decide which knitting machine to buy as the answer is not simple. No one machine can do everything so it might be a better question to decide which one to buy first. And as a beginner, unless you know exactly what you want to knit, this should be one that is easy to use and has easily available spares, tools and accessories.
Several factors can help a person to decide which one to start with.
Make
Budget (condition, functionality)
Gauge (which yarn to knit with)
Make
In the UK the home knitter will have a choice of about 5 makes of knitting machine.  There is the simple plastic Bond (Ultimate Sweater Machine). This is cheap but does not have a lot of functionality but might be a good starting point if you want are on a small budget and want to use cheap balls of DK wool from places like Aldi.   Here is a page with links to information about all the techniques that you can do on a BOND.  And here is site that has a lot of free patterns that you can download.
It is now possible to import a Artisan or a Taitexma knitting machine. You would need to make sure that all the import duties are paid etc. Some UK distributors might start to appear over the next few years. The Chinese Taitexma TH-160 mid-gauge machine is a 6mm gauge machine which becoming popular because this will knit DK and Aran and Worsted yarns. There is also a 6mm ribber than can be used with the machine. There is an interesting post about this machine on Dayana Knits website.
There are also the European machines known as Passap, Pfaff and Singer Superba. The Pfaff and the Singer Superba (Phildar, White) are not common and not suitable choices for the beginner. The Passap is a double-bed machine that works slightly differently so is not considered suitable for beginners but does produce lovely textured fabric if you have one that is working. Here is a link to a site that has a number of Passap manuals and patterns. And there are more patterns on Ravelry.com.
The website will focus upon the more common Japanese machines known as Brother (KnitKing in the US), Empisal Knitmaster/Silver Reed (also known as Silver Viscount, Studio, and Singer) and Toyota Elna.  Toyotas are cheap to buy second-hand but more difficult to get spare parts so is not really suitable for beginners, however, if you have inherited one then I suggest that you join the Toyota Knitting Machine FaceBook group and get help there.  Here is a link to the History of Toyota Machines with the different ones available. If you do have a Toyota machine, then you can still learn the basic techniques on this website. 
Budget
Many Knitmaster/Silver Reed and Brother/Knitking machines were manufactured in the 1970s, 1980s and 1990s (some silver reed since then). They range in price from an old machine, condition unknown of £50 or less ranging to a new machine with software of around £2000. I am ignoring bundles which can include accessories like the ribber and colourchanger etc. The price you will pay for a single-bed machine usually depends upon the following factors:-
Age of machine
Condition of machine
Demand for the machine
Access to spare and accessories
Functionality
New Machines
If you want a new machine then you only have the choice of 3 Silver Reed machines from Silver Viscount or one of their stockists. There are now some 'brother' type machines being made in China, but some think the quality is dubious. It will be interesting to see if they improve in the future.
If you want a different machine the you will be looking at getting a second-hand machine. You can buy a reconditioned machine with a warranty from a variety of sources, my next post will highlight the best ones that I know. If you can afford one, then this is a good choice for the beginner who wants the machine to work straightaway.
Second-hand Machines
If you are on a small budget then you will need to look out for a second-hand bargain on the internet or in local charity shops etc. The main problem will be the condition of the machine. It may have been stored away and needs a good clean. It may be missing tools and you will need to buy some more. It may need repairs and this is extra cost. Are you willing to do this yourself, or do you need to find someone to do this? You will need to weigh up the condition of the machine (check any pictures, ask questions, try and see the machine before you buy) with the price being asked.
Most of the machines that still work were manufactured in the 1970s, 1980s and 1990s. Over this period of time the machines new versions were developed that had more and more functionality, usually related to their ability to create different patterns. These machines can also be divided into Manual Patterning, Punchcard Patterning and Electronic Patterning. These terms were explained in the previous post.
Punchcard or Electronic
Manual machines are cheap and good for the beginner, but quickly become tiresome to operate. Electronic machines are usually more expensive and will need electronics or software to operate. The electronics are now very old and could fail so I would get a reconditioned machine if you can afford this. DesignaKnit software and cables can be bought to work with many Brother or Silver Reed machines, but check first. The software choice might not be the best for a beginner, but can be something to think about for your second machine. A punchcard machine is the best choice for a beginner. They are more robust and reliable and offer a range of patterns and stitches to support your new knitting hobby.
The final part of the decision of which machine to buy depends upon the type of yarn that you wish to knit with or more specifically the thickness of the yarn. No machine can knit the full range of yarns, if you want to do this you will need to buy more than one machine.
Home Knitting Machines can be divided into 4 types depending upon the thickness of yarn that it can knit. This is known in the trade as the GAUGE. This relates to the spacing between the needles (and thickness of needles). The following table shows the type of machine, the type of wool it can knit and the names of the knitting machines that you should look for. (passap and pfaff machines are 5mm gauge).
Gauge
FINE
7 gauge
STANDARD
5.6 gauge
MID
3.9 gauge
CHUNKY
2.8 gauge
3.6 mm
250 needles
4.5 mm
200 needles
6.5 mm
105/140/150/160 needles
9 mm
110 needles
1ply, 2ply, 3ply
lace, fingering,
light fingering
2ply, 3ply, 4ply
fingering, sock
4 ply, DK, aran,
fingering, sock, sport, worsted,
(DK), aran,
chunky, bulky,
mohair
Simple:

LK140
LK150 (plastic)
Simple:
Bond (8 mm)
Knitmaster/SR
LK100,
Zippy 90
Brother:-
KH230
Punchcard:
Punchcard:
Punchcard:
Punchcard:
Knitmaster:-
F270
F370

Brother:-
KH120
Knitmaster:-
321, 323,
260, 360,
700, 740,
zippy deluxe,
Zippy Plus,
Silver Reed:-
sk280

Brother:-
KH860, KH881
KH836, KH890,
KH891
Knitmaster:-
MK70 (foldup)
SK160

Brother:-
KX395
(convertable 4.5 and 9 mm)
Knitmaster:-
SK120, SK121,
SK150 (steel),
SK151, SK155,
SK160


Brother:-
KH260
Electronic:
Electronic:
Electronic:
Electronic:
Silver Reed:-
SK830
Knitmaster:-
500, 550, 560, 580
Silver Reed:-
SK840

Brother:
KH900, KH910,
KH940, KH950,
KH950i, KH965,
KH965i, KH970
Silver Reed:
SK860



Silver Reed:
SK890

Brother:-
KH270
If you want to buy new then you can choose from the simple plastic mid-gauge LK150, the SK280 standard gauge punchcard or the SK840 standard gauge electronic machine, all can be seen at www.silverviscount.co.uk along with available new accessories.
If you are buying reconditioned or secondhand, the fine gauge and mid-gauge machines are rare and command high prices. For a beginner on a budget wanting a machine that patterns, the best choice is a standard gauge punchcard machine or a chunky gauge, although the latter are not so common.
Personally, I have owned 5 or 6 machines in my lifetime and as a beginner I like my standard gauge punchcard machine (Knitmaster MOD 700) as it is easy to use and blank punchcards are cheap to buy. I do not knit thicker yarns often and am happy to hand knit with them.
Knitmaster vs Brother
The choice between Brother and Knitmaster/Silver Reed is not easy as they both knit the same types of patterns, Knitmaster/Silver Reed uses levers on the carriage, Brother uses buttons. Knitmaster/Silver Reed parts are more easily available and old accessories work on newer machines. Brother have different types of accessories but were more popular in the UK so there are more second-hand machines available. Some Brother machines also have garter carriages that can create purl stitches. Some of the Brother machines can be used with img2track software. Knitmaster machines were liked for their lace carriages.
Best machine for beginner
In conclusion I believe that Brother or Knitmaster/Silver Reed is the best choice for a beginner. Punchcard machines are the best choice overall. Standard gauge machines and 4 ply yarn patterns is the most common choice and the most supported. However, if you want to knit with DK yarn then you may need to wait until a suitable machine comes along or buy a simple LK150 new.
If you are still unsure find out if there is a knitting machine club in your area and go and see some machines. Do a search on YouTube for knitting machines to get a better idea of how they knit and how easy or difficult they are to use.
Remember that you do not have to find your ideal machine straight away, the machine that you begin on can be resold so that you can find your ideal machine once you have a better idea of what you want to knit.
Here is an interesting YouTube video about choosing machines.
My next post discusses the best places in the UK (some with international delivery) to get your first machine.